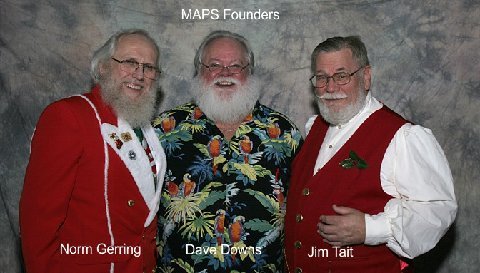 MAPS was the brain child of Jim Magic Santa Tait
. He suggested at the 2009 'Wrap Up Dinner' in January that some Santas meet to discuss forming a Michigan group. He, Big Wave Santa
, and Santa (Emeritus) Norm Gerring
met in Feb of 2009 to discuss a Michigan group. Santa Jim suggested the name and acronym MAPS. He also suggested starting an inter-net group for all Michigan Santas and their counterparts. We agreed and added no dues. The Michigan Association of Professional Santas officially started on March 1st 2009 and the rest is history.
Santa (Emeritus) Norm Gerring
, Big Wave Santa
, and Jim Magic Santa Tait
. Picture was taken at the annual Michigan Santa 'Wrap Up Dinner' Jan 20, 2012.
On January 18, 2020 at the Wrap Up Dinner in Livonia MI they were each presented with a beautiful plaque commemorating their part in the creation of M.A.P.S.